Join the Greeley Kids Dental & Orthodontics Family.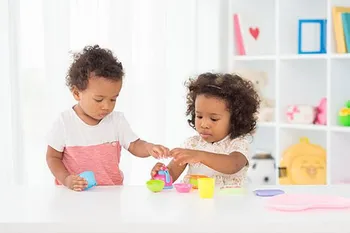 Experts agree that children benefit from having a dental home established by the time they are one year old. Building a connection with a dental team from a young age sets your child up for a lifetime of healthy routines and outcomes. Located in Greeley, Colorado, our office can also help in case of mouth-related emergencies, allowing you to skip the germs and wait times at the emergency room or urgent care.
Your First Visit
Your child's visits with us should be positive and enjoyable, starting from day one. Prepare your child for their dental visit by talking to them (if they're old enough) about what the dentist does and why. Let them know that the dentist and staff at Greeley Kids will be kind and friendly, and will always explain the procedures they do and answer their questions.
For your child's first visit with us, you can expect:

Health history questions
X-rays
Teeth cleaning
Fluoride treatment
Dentist examination
A plan for future treatment
We welcome you to accompany your child throughout their first visit with us. During future appointments, it may help us build rapport and gain your child's confidence if you wait in the reception area while they are treated. We will be happy to discuss options with you to best fulfill your child's needs.
Subsequent Visits
In all your child's future visits, you can expect a friendly welcome, thorough dental cleanings, careful examinations, and helpful discussions about your child's specific oral health needs.
Look forward to:

Easy and effective screenings
Thoughtful treatments
Detailed care plans
Referrals to other providers you might need
Answers to all of your oral health questions
A warm, caring atmosphere
"We've always had a great time coming to the dentist. And they're really friendly with the kids. They make it a more enjoyable experience as miserable as it can be for the kids. I recommend these people any day, anytime."

-Jonathan Munch
Get Ready to See Them Grin
Come to Greeley Kids for happy, healthy smiles.